Happy holidays to one and all!
Before I put this up on my blog,
The Little Dorama Girl
, I thought I'd share it here first.
(To the
Mods
, please PM me if the poem's too long and I should post an excerpt instead. Thanks!)
(Er, and yes, the dude in the Santa suit is Johnny Kitagawa.
)
Enjoy!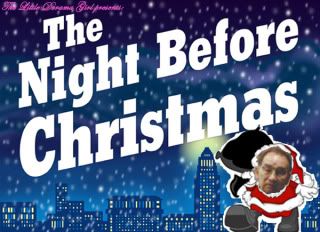 by Ender's Girl
eTwas the night before Christmas, when all through Japan
Not a creature was stirring, except for one man:
Prowling the darkened streets with great care,
In hopes that police would not notice him there.
The children were nestled all snug on their mats,
While the moon shone bright through the old bamboo slats.
All warm in their jammies, in wool blankets wrapped,
They drifted to dreamland for a long winterfs nap.
In the yard of one house, on the snow-covered surface,
A dark form descended, a shadowy menace.
Out of the night air it suddfnly appeared:
A miniature sleigh, and eight puny reindeer.
In front sat the driver, so nimble and quick,
Who was none but Johnny, that evil old prick!
Plodding and wheezing, his critters they came,
He whistled so faintly and hissed out their names:
gNow Yabu! Now, Chinen! Now, Hikaru and Yuto!
On, Yamada! On,
Daiki
! On Ryutaro and Inoo!
To the top of the porch! to the top of the wall!
Now dash away! Hey! I say jump away all!h
The eight stunted reindeer, dragging their hoofs,
Piteously crawled their way up to the roof.
But out came the whip, and they whickered in fright;
The sleigh rocked and swayed, for its load was but light.
For inside were nought but a few filthy sacks,
All empty for nowc but not on the trip back.
And then, in a twinkling, with nary a sound,
Down the chimney Johnny came with a bound!
He was dressed in rich sable from head to toe,
Hunched and misshapen, like an oversized crow.
A large dirty sack he had flung on one shoulder,
And wherever he crept, the air got a bit colder.
His eyes were black buttons that gleamed in the dark,
And his skin had the texture of moldering bark.
Those cheeks, gray and lumpy, were like Elmer Fuddfs,
But his teeth were small razors, flecked with dried blood.
From the living room, down the hall did he glide,
And stopped at the door with the wee ones inside.
Three boys lay sleeping, aged ten to thirteen,
50-foot robots invading their dreams.
Johnny spoke not a word, but went straight to work:
Bagged the poor lads, then tied the sack with a jerk.
Back out he raced, while hauling his loot,
Before the parents woke and saw what was afoot.
Up through the chimney, to the getaway sleigh,
One crack of his whip \ up, up, and away!
For there was much to do; the night was still young.
Till the sacks were all filled, his job was not done.
Countless boys lay, unsuspecting, in bed,
Oblivious to the horrors that waited ahead.
Old Kitagawa needed more for his collection,
Ergo this multiple moonlight abduction.
His gJuniorsh he called them, but in fact were his thralls.
(Theyfd grow up like eunuchs ecoz he cut off theirc uh, hair.)
But such was their fate, and our sad tale ends here;
Be thankful you were spared, and I wish you good cheer.
THE END
***
Photo template taken from jimnolt.com. Poem adapted from the 1823 Yuletide classic, gA Visit from St. Nicholash by Clement Clarke Moore. Sincere apologies to Mr. Moore (and St. Nick) from The Little Dorama Girl. The tone of this poem was also partly inspired by Charles Dickensf deliciously grisly short story, gCaptain Murderer.h